Last week was a very eventful one in the art world. Art Basel opened on its home turf in Switzerland, with over 200 galleries presenting works by top international artists (we've highlighted a few selections here). Back in the US, and Web3, in a white-glove auction of digital art from the seized 3AC collection, Sotheby's sold Dmitri Cherniak's iconic Generative Art NFT 'The Goose' for $6.2M. A packed auction room (and even a few IRL bidders) proved an unwavering interest and demand for digital art.
For our 8th Edition of Appraisal Bureau News we are zooming in on fractional art ownership. While technology has granted new formats through which to diversify one's financial portfolio by owning a piece of a blue-chip artwork, the concept and practice existed long before. On the theme of art and finance, we also sat down with Rebecca Fine of Athena Art Finance to discuss the business of art lending, read the interview here.
- Caroline Taylor, Founder, Appraisal Bureau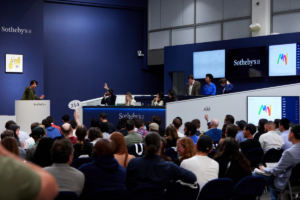 Sotheby's, Grails: Property from an Iconic Digital Art Collection Part II, June 15
Fractionalized Ownership of Art: Benefits and Insights
There has been a proliferation of new platforms and vehicles offering fractional ownership in recent years, but the concept of multiple owners of a work of art is not new. Since the late 2000s, models have been growing in numbers, while broader dialogue and appreciation of art as an investment has accelerated.
What are the benefits of Fractional Ownership?
A way to increase access and bring new collectors to the market

Fractional ownership fundamentally offers access to owning blue-chip artworks, which has historically been challenging in a market that closely controls who owns what. "We are seeing a huge influx of people and institutions entering this investment space," says Rebecca Fine, a founder of Athena Art Finance, whose parent company, fintech platform Yieldstreet, offers access to investments in highly vetted diversified collections of blue-chip modern and contemporary artworks. "Investors who aren't already invested in art have massive appetite for exposure to blue-chip art because of its strong performance, historically low correlation to the stock market and as a hedge against inflation." With investments as low as $15,000 investors get access to art collections worth many, many millions of dollars.

A more transparent way of working

This is not just about returns on investment but about access to a market which has traditionally been a closed network of participants. An open, more transparent ownership model, adjoined with the fact that many of the new models perform in FCA and SEC regulatory systems, is reassuring to many investors. Where Blockchain is being used to secure and exchange assets, there may also be an additional opportunity for transparency.

A flexible way of diversifying assets

In addition to being able to enjoy ownership in an asset which may typically be out of reach, fractional ownership also offers investors a means to spread their interests more widely across numerous markets. Flexibility and the ease with which shares can be liquidated may vary, but on a fundamental level it is likely to be easier than shifting an entire Warhol at short notice. Choosing the right artworks is key to the success of the investment. "To maximize returns, we acquire only exceptional examples of each artist's most iconic imagery, from the most important period of their careers." According to Fine, investment decisions are heavily informed by Athena's lending experience and proprietary data analytics. Yieldstreet obtains independent third-party appraisals before they acquire each artwork to ensure they are buying at or below fair market value.
As always, not all funds are created equal. The track record of the platform or investment manager is crucial as the art market speaks a different language than financial markets. Yieldstreet, which plans to launch its fifth diversified Art Equity Fund later this summer, reports a weighted average growth of more than 25% since acquisition of the artworks, based on year end independent third-party appraisals.