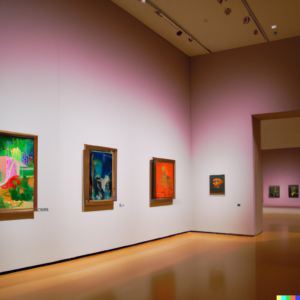 AI image generated by Dall-E
Could AI help us better understand the power of art (rather than threaten its existence)?
by Riah Prior
It is not difficult to find concerns over the advance of AI and the art market has been at the forefront of raising alarm, with professionals vocalising potential copyright issues (indeed, Polish artist Greg Rutkkowski told the BBC this week that his work had been "used in AI more than Picasso"), and a perceived fundamental threat to demand for creatives' work.
Recent legal developments include a US federal judge in San Francisco permitting artists involved in a class lawsuit against Stability AI, Midjourney and DeviantArt, more time to gather 'facts' demonstrating infringement, whilst a comparable action was brought by two authors against ChatGPT late last month, alleging the use of books in its training of the platform's underpinning intelligence system. Meanwhile, new platforms such as 'Glaze' are developing solutions to better protect artists, in this instance by enabling artists to 'trick' AI training systems.
But what of the potential benefits of AI to art? A new study by the psychology department at the University of Chicago, is claiming that computer models could predict the 'memorability' of art.
The word 'could', at this stage, is key. Whilst the model (a ResMem neural network, which was trained on 4021 paintings held at the Art Institute of Chicago) was able to successfully predict which "pieces people will remember, to the degree that we can predict the pieces that become culturally famous" it was not yet able to determine "the precise factors that make an image memorable", with factors such as colour and contrast not yet consistently explaining results.
If the model were able to whittle down such a list of 'factors' contributing to an artwork's memorability, then it is not too hard to imagine a world in which a comparable approach could be taken to determine a work's success in all aspects of the art world. For some, this would be a welcome advance and insight into human's relationship to creativity. Others are likely to see it as a further threat to creativity, with artists conceivably able to predict a 'formula' for success.
But, as with many concerns surrounding digital advance, such 'revolutions' are not, in reality, unprecedented. The art market, in particular, has long been utilising data to determine art works which sell best (top tip- use red paint) and to calculate optimum market conditions for sales.
In an interview with specialist publication, Advanced Science News, the Assistant Professor of this latest study, Wilma Bainbridge, also highlights the opportunities that the findings could have on the approaches to diagnosing conditions such as Alzheimer's. A reminder, perhaps, that when considering AI through the lens of the artworld it is worth remembering art exists within, and interacts with, a society with far broader needs. A reality the sector will need to heed in order to thrive.
Riah Pryor is an investigative journalist and author specialising in the relationship between art and law, supported by her experience working at New Scotland Yard's Art and Antiques Unit. She previously worked at The Art Newspaper as Art Market Assistant Editor and continues to write for them (and other publications, including The Financial Times) on a freelance basis, whilst supporting a range of art market clients on content.